Put-in-Bay Lodging
South Bass Island, commonly known as Put-in-Bay or the Key West of The North, serves as the best vacation destination in the Midwest region of the United States. The Lake Erie Island is located near Catawba and Port Clinton, Ohio. Put-in-Bay is just a short drive away from Cleveland, Toledo and Sandusky.
Visitors who come to Put-in-Bay enjoy Perry's Victory and International Peace Memorial, Perry's Cave and the South Bass Island State Park to name a few of the island's attractions. Meanwhile, downtown Put-in-Bay is known for its local restaurants, tiki bars, and a lively nightlife scene at bars like Mr. Eds.
Put-in-Bay Ohio has great Put-in-Bay resorts, rental homes, waterfront condos, and lakeview cottages for you stay in during your next getaway to Put-in-Bay island. You and your family deserve the best lodging while on the Island. By staying in one of our suggested lodging choices, you will make the most of your Put-in-Bay vacation!
We love to help you find the resort or rental home that suits your needs. Put-in-Bay offers lodging options for individuals and large groups. From a romantic 2-person hotel room, to a big 12-person Waterfront Condo with a pool, to a 16-person vacation rental home, you can find what you are looking for.
Put-in-Bay Condos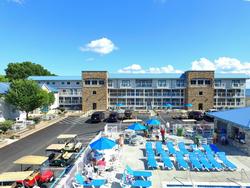 The Put-in-Bay Condos provide a few different options for those coming to Put-in-Bay. The condos are situated on a beautiful stretch of lakefront property and includes a swimming pool are that guests love. Guests can enjoy a drink while sitting poolside and take advantage of onsite private golf cart rentals. Put-in-Bay Waterfront and poolview condos are available.
Island Club Rentals
Be sure to consider staying at a Put-in-Bay vacation home when planning your next Lake Erie getaway. The Island Club is best option if you are looking for a vacation rental home. Island Club homes come with a fully equipped kitchen, free wifi and outdoor pool access. Reap the benefits of staying in your very own Put-in-Bay home, and consider the Island Club for your lodging needs. It will make for a unique and enjoyable visit to South Bass Island.
Frequently Asked Questions
What is the phone number to call for the Put-in-Bay Condos?
If you have questions about our condos or would like to request information about any upcoming events on the Lake Erie Island, feel free to call 216-898-9951. It is our passion to ensure that all of our visitors have a fantastic time when they make it to our wonderful island. We look forward to seeing you at Put-in-Bay, and we hope you have a wonderful stay.
Can the Put-in-Bay Condos accommodate large groups?
The Put-in-Bay Condos are great for larger groups. The condos can accommodate anywhere from 6-12 guests depending on the condo itself. For any groups larger than 12 the Island Club is a great choice.
Where can I find guest reviews for the Put-in-Bay?
Guest reviews of the Put-in-Bay condos can be found right here on putinbaycondos.com. Other reviews can be found on Trip Advisor, Expedia, Airbnb and more.
Are there any Hotels or Lodging within walking distance of downtown?
The Commodore Resort, located behind Mr. Ed's is in the heart of downtown Put-in-Bay. Guests have access to MIST Swim-up bar and the jacuzzi. Another option close to downtown is the Victory Station Hotel.
How do you check-in to the Put-in-Bay condos?
Upon making a reservation with the Put-in-Bay Condos check-in instructions will be sent to the email on file for the reservation.
?