Have you ever wondered what there is to do in Put-in-Bay Ohio other than all the great music? There are many wonderful Put-in-Bay attractions and things to do all over the island on your getaway. The first thing to do is secure your bay lodging at one of our great Put in Bay hotels, Put-in-Bay resorts, Waterfront Condos, or rental homes. Second, get a Put-in-Bay golf cart rental from wherever you are staying so that you can explore the island. And finally, Go Explore and do some sightseeing!
Getting Here is a Thing to Do!
Visitors come from all over the United States and beyond to check out our island paradise, although the majority are from our very own state of Ohio. Put-in-Bay island a great place to stay overnight, even if you are a local from Cleveland, just an hour away. Many consider the trip to Put-in-Bay as half the fun. Whether you are leaving Sandusky or Port Clinton on the Jet Express or bringing your car over on the Miller Ferry out of Catawaba, you will feel the power and beauty of the lake. Even those few souls who fly their own plane to the Put-in-Bay Airport enjoy beautiful panoramic lake views. There's also great public dockage downtown for those who boat over from the mainland.
Start Your Adventure Downtown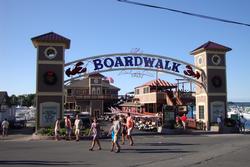 Many guests start their adventure in downtown Put-in-Bay which is the area surrounding DeRivera Park. Kids love the antique carousel rides while history buffs enjoy the Lake Erie Islands Historical Society. Educational programs are offered at OSU Labs and on Gibraltar Island. Don't forget about our great Put-in-Bay restaurants! While downtown, you have to try the world famous lobster bisque at the Boardwalk or local favorite pizza at Cameo Pizza, inside Mr. Ed's Bar. If you need some local island wine to wash down that delicious pie, then consider a stop at the Put-in-Bay Winery or Heineman's Winery. Parents can sip a glass while the kids go down and explore the Crystal Cave. Finally, grab an ice cream cone at the Chocolate Museum and head out to Explore some more!
Perry's Victory and International Peace Memorial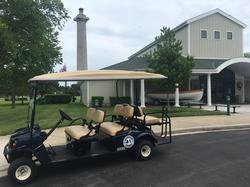 Located just next to downtown is the island's main attraction, seen for miles in all directions, namely Perry's Victory and International Peace Memorial. This 352-foot-tall Doric column rising from center of the national park pays tribute to Commodore Oliver Hazard Perry. On a clear day at the top of Perry's Victory & International Peace Memorial from the observation deck, you can see each of the Lake Erie Islands, including the ones in nearby Canada. Walking through the Visitor Center, you will learn all about the War of 1812 and in particular the Battle of Lake Erie that the Memorial immortalizes. No matter where else you drive your Put-in-Bay golf cart rental, this stop is a must do!
Play on the Bay!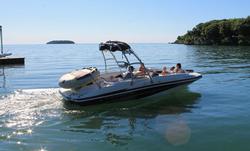 After a couple hours of history, it may be time to play on the bay. Put-in-Bay boasts many water sports for the whole family to enjoy. If you are still downtown, you can make a reservation at the parasailing company located on the Boardwalk dock. Fly high and see the island from a new vantage point from the downtown all the way to the South Bass Island lighthouse. Just up the street is a kayaking company offering tours of the bay and around the island. Head out to the South Bass Island State Park and you will find more options. The Put-in-Bay Watercraft Rentals company offers both jet ski rentals and small boat rentals right there at the park. And for those who don't like the water, step next door to the golf course and play a quick 9.
Perry's Cave Family Fun Center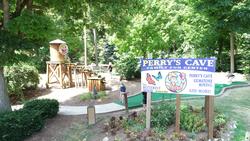 Last, but not least, there is a special spot tucked in to the center of the island that almost every visitor will visit - Perry's Cave Family Fun Center. The youngest tots find great pleasure discovering treasures in the Gemstone Mining. Older kids can test their skills in the maze at Fort Amaze'n or discover hundreds of butterflies in the Butterfly House. For the daring kid, challenge yourself on the Rock Wall, after a quick safety talk. Parents can reminisce about days gone by as they walk through the Antique Car Museum and check out old cars, trucks, and even ice boats. Gather up the whole family for a round of miniature golf (aka mini golf) at the War of 18 Holes before you finish your island adventure with a leisurely ride and great narrated histoprical tour aboard the Tour Train.
Stay Overnight in Put-in-Bay
After a long day exploring Put-in-Bay, it is nice to have a place to go back to and relax. There is one recommended resort located right on Lake Erie called the Put-in-Bay Condos. The Condos offer both a smaller poolview style unit with 2 bedrooms and 2 baths, and a larger waterfront style with 4 bedrooms and 2-3 baths. The Waterfront Condos are just that... condos with a large deck overlooking the water with beautiful panoramic views. There is also one recommended home rental community called the Island Club Home Rentals. Each home has 3-5 bedrooms and 2-3 baths with a private deck or patio, full kitchen, and parking. Whichever you choose, you can get more information by calling the Put-in-Bay Reservation Center at 216-898-9951.
FUN FACT: Around 1900, the Hotel Victory had 625 guest rooms, at that time the largest resort hotel in America featuring the first coed swimming pool.